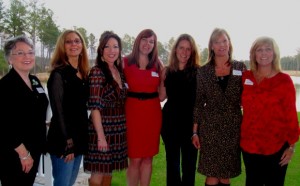 Laura Johnson and I met with Stephanie Seymore, one of the founding committee members to learn more about the I Love That Lady Project. Listen to Laura's radio interview with Stephanie on Radio Free ENC's WNOS 105.9FM and 1450AM:
"I love that lady…" a casual phrase with deep meaning. It is always said about a woman who goes out of her way to serve her family, friends, and community.
This will be the fifth year that the non-profit organization, I Love That Lady, selects a lovely woman from Craven County to be recognized for her contributions. The winner is presented with a monetary donation for her favorite Craven County charity. The gala event will be on February 27, 2014 at the New Bern Riverfront Convention Center.
I Love That Lady (ILTL) was created to recognize inspiring individuals who could empower other women to take action. Aside from their commitment to the community, the ILTL Award recipients have all been women who quietly make their presence felt through their volunteer efforts and expect nothing in return but the satisfaction of helping.
The ILTL committee is now taking nominations for its 2014 recipient. Who do you know within Craven County that gives unselfishly of herself? Nominations can be submitted online at ilovethatlady.com/nominations/ or by submitting the equivalent by email to
mailto:Ilovethatlady@yahoo.com or by mailing it to: I Love That Lady, P.O. Box 13414, New Bern, NC 28561. All nominations must be received no later than 5 p.m. January 10, 2014.
DISCLAIMER: Charities must be located and operate in Craven County to be eligible for the I Love That Lady Award donation. All charities must qualify under the IRS Code Section 501C and be in compliance with the state admissions. The I Love That Lady committee must agree on and approve all charities. For more information visit: ilovethatlady.com.
Information provided by: Jane Maulucci, The Reactive Voice, LLC