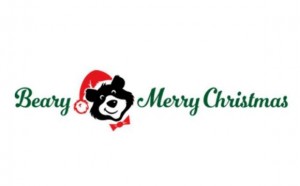 Snow Will Fall Every Friday Night in Bear Plaza
"Light Up the Season" Event November 29 First Opportunity to
 Experience the Frosty Snowfall
The Downtown Council of the New Bern Area Chamber of Commerce, along with area businesses in the Historic Downtown district, will be treating customers to more than just great shopping during the holiday season.  This year's Beary Merry Christmas in New Bern will be offering a number of family friendly activities and events, including a snowfall in Bear Plaza on Middle Street every Friday evening and the opportunity to go sledding in downtown on December 15th!
Beary Merry Christmas in New Bern will officially begin on Friday, November 29 with "Light Up the Season," an annual family event that will welcome Santa and illuminate Bear Plaza with hundreds of lights and open Santa House to kids of all ages.  The seasonal block party will take place along the 200 block of Middle Street from 4 – 8pm and will include holiday music, dancing and crafts for the children.   Magicians Gary Shelton and PJ Walker will both perform; along with dance teams from Get the Pointe, Margaret Fletcher Dance Studio and New Bern Ballet.  Downtown shops will stay open late so parents and grandparents can get a head start on their holiday shopping.   Snow will also begin to fall once the lights have been illuminated!  This event is made possible through support from Joe Alcoke Auto and Truck Center.
Following Light Up the Season, shoppers, parents and children can experience the winter snowfall every Friday night in Bear Plaza from 6pm – 8pm.  Friday dates include December 6th, 13th and 20th.  There will also be snow the Saturday and Sunday before Christmas.
On December 14 from 1:30-4:30pm, families can put their marching boots on and participate in the Chamber of Commerce's "Bernie's Beary Merry Mistletoe March." This year's march will begin at the New Bern Area Chamber of Commerce where children, parents and grandparents will enjoy hot chocolate and other surprises before we march happily through the downtown streets of New Bern to the New Bern Civic Theatre where everyone will enjoy the popular POLAR EXPRESS movie. Coastal Children's Clinic is the event sponsor for this exciting night out!
The forecast is for more snow for December 15th in downtown New Bern when the lot on the corner of Craven Street and South Front Street will be transformed into a winter wonderland.  Children will have the rare opportunity to enjoy a day of sledding at no cost thanks to the generous support of event sponsor Chesnutt,
Clemmons & Peacock, PA.  The Sledding and Shopping Sunday will run from 1pm – 4pm.
In addition to these outstanding holiday events, the celebration continues throughout the month of December as Beary Merry Christmas in New Bern ushers in the holidays with a variety of Downtown events and shopping opportunities including:
Cast your vote for the prettiest wreath adorning the businesses of Downtown New Bern in the Beary Beautiful Wreath contest sponsored by The Sun Journal and the Galley Store.
Downtown New Bern will be the place to be on Friday nights with many shops remaining open until 8pm.  Plus, New Bern Tours will be offering a special Christmas Bear Trolley Tour on Friday evenings at 5:30pm and 7pm.  Reservations are required.
On December 7th, Downtown New Bern will have a full day of activities beginning with Breakfast with Santa at the Riverfront Convention Center.  The Jaycees Christmas Parade and annual Christmas Flotilla will also take place on December 7st.
Tryon Palace will be hosting their popular Candlelight Tours on December 14th and December 21st.  The theme is Seasons of Delight:  A Candlelight Masquerade and is a great time for the whole family!
This list represents only a sample of the events taking place in Downtown New Bern. For all of the upcoming holiday activities planned for this Christmas season, please go to www.bearymerrychristmas.com.
In addition to the events sponsors Joe Alcoke Auto and Truck Center, Chestnutt, Clemmons & Peacock, PA and ViaMark Advertising, Presenting sponsors and Santa Sponsors include:
Presenting Sponsors: A.G. Salem & Associates, Coastal Children's Clinic, and TradeIdeas
Santa Sponsor: Current Communications, Morgan's Tavern & Grill, and The Accidental Artist
For an entire list of all the sponsors and participating businesses, please visit the Beary Merry Christmas website at www.bearymerrychristmas.com/sponsors.
Submitted by: Amber McCraken for the New Bern Area Chamber of Commerce and Downtown Council Christmas Committee