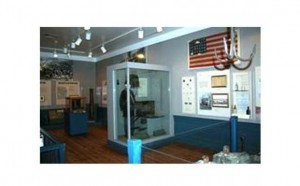 Free and Ticketed Events Available Across Tryon Palace, Nov. 16-17
The birth of James City and the participation of the U.S. Colored Troops stationed in New Bern will be remembered at Tryon Palace during Civil War Weekend, held Nov. 16-17. Events will be held Saturday, Nov. 16, from 9am – 10pm, and Sunday from noon until 5pm.
Visitors purchasing a One Day Pass will learn about New Bern during the Civil War through a variety of tours and exhibits that include: tours of the Dixon and Stanly Houses, crafts and a scavenger hunt on the history of James City in the Regional History Museum.
Several free events will be offered as well, including a rare look inside the Academy Museum, presentations on Civil War uniforms and a free screening of the movie "Glory."
The Academy Museum houses Tryon Palace's largest permanent Civil War exhibit and is only open to the public on special occasions. Located on the corner of Hancock and New streets, the Academy will be open on Saturday from 10am – 4pm. and Sunday from 12:30pm – 4pm.  A Union soldier dressed in historic clothing can be found inside the Academy Museum throughout Saturday's event as well. His uniform will represent the 44th Mass officers stationed in New Bern, who went on to lead U.S. Colored Troop (USCT) regiments.
A free screening of the movie "Glory" will be held at 7pm on Saturday in the Waystation Auditorium, located on the corner of Pollock and George streets. "Glory," starring Matthew Broderick, Morgan Freeman and Denzel Washington, tells the story of the Civil War's first all-African American regiment: the 54th Massachusetts Voluntary Infantry, and of their role against Confederate forces at the Battle of Antietam. Seating will be first-come, first-served.
For more information call 252-639-3500 or visit www.tryonpalace.org.
Submitted by: Craig Ramey, Marketing and Communications, Manager, Tryon Palace