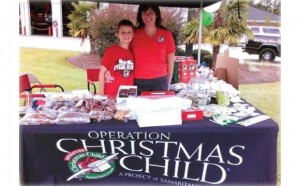 Operation Christmas Child, a project of Samaritan's Purse, is the world's largest Christmas project of its kind.
In the last 20 years, 100 million shoebox gifts have been distributed to children in more than 100 countries. Many of these children have never received a gift or had anything new of their own.
Anyone can participate! You just pack an empty shoebox or small plastic container full of simple items like toys, school supplies, and hygiene items.
Determine whether or not your gift is for a boy or girl and pick an age category: 2-4, 5-9, or 10-14.
Shop for your shoebox goodies! Gift suggestions:
*Toys! Include items that children will immediately embrace such as dolls, stuffed animals, toy trucks, kazoos, harmonicas, yo-yos, jump ropes, balls etc.
*School supplies!!! Pens, markers, pencils and sharpeners, crayons, scissors, notebooks, coloring books etc. Many children can't go to school without their own supplies.
*Hygiene items!!! Toothbrush and paste, mild bar soap (in a plastic bag), comb, washcloth etc.
*Other!!! Tee shirts, socks, ball caps, hair accessories, toy jewelry, water bottles etc.
*Candy!!! Hard candy, candy canes, gum etc.
No chocolate or candy that melts.
Don't include: Used items, war related items such as toy guns, knives or military figures, chocolate or food, liquids or lotions, breakable items.
Always include a letter to your child and if possible a picture of you and your family. Include your address. Many people get letters back.
Include a $7 donation with each box to cover shipping costs. You can pay the $7 online and get a barcode label to track your box to see what country it goes to: www.samaritanspurse.org.
Put a rubber band around your box and deliver it to one of many locations in New Bern. We will be collecting boxes at Tabernacle Baptist Church, Chick-fil-a, Dr. Kimmey Seymore's office, Family Tire and Auto, and Amici Salon. If your business would like to be a collection site for us we would love to have you help us. Shoeboxes need to be dropped off at a collection site by November 16th.
For any more information please contact Stephanie Seymore at 252-636-0953 or check out our Facebook page.
Submitted by: Stephanie Seymore, TBC Operation Christmas Child