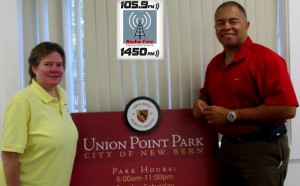 You can help New Bern Parks and Recreation by taking a survey for the greater good of New Bern!
Laura Johnson enjoyed meeting Thurman Hardison, Director of New Bern Parks and Recreation. He encouraged residents to participate in the City's master plan for Parks and Recreation by taking a quick survey. He believes residents can make a difference in this radio interview with Laura Johnson. The interview will air on Radio Free ENC's WNOS 105.9FM and 1450AM. Listen to the audio here:
The City of New Bern Parks and Recreation are in the process of updating their new comprehensive master plan – the last one dates back to July 2006. A lot has happened in the past 7 years and they've recognized new opportunities and ways to improve their services, facilities, and programs.
If you are a resident of the City of New Bern, this is the perfect time to help the Parks and Recreation Department by taking a short survey to make positive changes.
Thurman Hardison identified new recreation trends that the City is seeing, like people wanting more activities. He said, "The trends in today's world are mostly centered on health, wellness, and fitness and it's becoming a way of life and we hope it becomes the culture of our city of being fit, well, and healthy".
Laura asked, "Why should residents be interested in the survey and how important is it the master plan to them?" Thurman said, "The master plan is important to our residents, as they can help shape the future of what they want in terms of parks and recreation facilities, programs, and services".
The City is making the survey available to residents via the New Bern Sun Journal, the Public Housing Authority, The City of New Bern's customer services on utility bills, and at the parks and recreation centers and admin office along with other public buildings like City Hall, the Dunn Building, Fort Totten, electric services, and other public buildings.
You can help make a difference in our City's parks and recreation events, activities, programs, and services by taking a few minutes to taking the survey here. It took me 3 minutes to fill out and was worth it!
For more information, please visit New Bern Parks and Recreation's website or call 252-639-2900 or 2901.
Tell us what you think by commenting below or sending an email. "Like" New Bern Now's Facebook page to follow the latest happenings!
Wendy Card