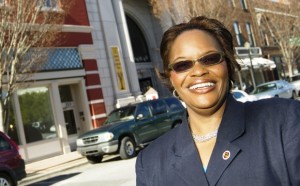 The City of New Bern's cultural resources, historic beauty and engaged communities make it a wonderful city in which to live, visit and retire. Servant-oriented leadership in local government will preserve this quality of life and promote growth in a prosperous future for all New Bern citizens.
Tharesa Chadwick Lee is a proven servant leader who believes the citizens are a city's greatest resource. She believes New Bern's citizens have the gifts; talents and commitment to thrive – not just survive – going forward. Tharesa believes elected leaders are the servants of the people and she desires to bring a new prospective to city governance – one that will open the way for collaboration and dialogue,  promote clarity and transparency which will foster community and economic development for the growth and prosperity of New Bern.
Tharesa is committed to purposed change that will benefit the City's greatest needs not the needs of the greatest. Tharesa believes every citizen, regardless of age, education or income, has a right to share and participate in the decision-making process that is their local government.
Tharesa brings an abundance of experience to her pursuit of the seat of Mayor. She has served New Bern as a local, state and national representative for over 25 years. As the City of New Bern's Non-Profit Coordinator and the Administrator for the Neuse River Community Development Corporation, Tharesa collaborated to bring citizens, non-profits and others together to build homes, provide services and raise the awareness of non-profits locally, regionally and nation-wide. Tharesa's energy and commitment to the community includes a tenure as President of the United Way of Coastal Carolina; Chair of CARTS Advisory Board; Co-Chair of Neuse-Trent Housing Alliance; President of the statewide NC Housing Coalition; member of Craven County DSS Advisory Board; program chair for the Chamber Minority Business Council and Nonprofit Council; member of the Mount Olive College Alumni Board of Directors; President of the Dr. Martin Luther King, Jr. Outreach Committee; and co-chair of the New Bern 300th Cultural Committee.
In 2006, Tharesa was selected as the only delegate from Eastern North Carolina to the National Nonprofit Congress sit on the statewide Nonprofit Awareness Month Taskforce.
Tharesa has a passion for education and serves on the Mount Olive College alumni board of Directors, is a Local Government Advisory Council member, a Craven Community College VIP Ambassador and served on the Craven County 2006 Educational Task Force.
Tharesa is a 2009 Fellow with the Institute of Political Leadership, a 12 week study program in political leadership and public policy. She is a 2012 graduate of the Women in Office Institute, a summer political leadership and public policy program at William Peace University.
Tharesa is a graduate of Liberty University, Mount Olive College and Coastal Carolina Community College.  She holds a Certificate in Nonprofit Management from Duke University; NC Rural Center Economic Development Institute; Leadership Craven Graduate; Certificate in Rural Entrepreneurship and a Certified Housing Counselor and Facilitator.
Tharesa's first undertaking as your Mayor will be gather the newly elected board together to build consensus, have a dialogue with the civic, social, and religious leaders and other citizens of New Bern for a dialogue about New Bern's future.
Restoring servant leadership – leadership that serves the people!  It's Time! I CARE!
Cast your vote for A New Perspective!
Submitted by: Tharesa Lee, Candidate for Mayor of the City of New Bern, NC