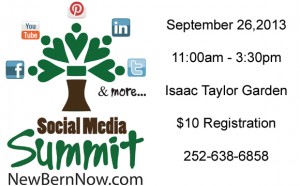 September 26, 2013 from 11:00am – 3:30pm
Isaac Taylor Garden, 228 Craven St., New Bern, NC
The goal is to help non-profits and businesses understand the necessity of being visible online from a non-technical standpoint. There are a staggering number of businesses and non-profits without websites and/or social media sites and others who don't know how to effectively use the sites. If you are one of them, the Social Media Summit is for you and your organization!
Local business owners and individuals are "teaming up" with New Bern Now to help our community increase their revenue by either becoming visible online or helping you increase your customer/client base.
We want you to take away the "big picture" of how using websites and/or blogs along with social media sites/tools can enhance your client/customer base, ultimately increasing your profits. If you're thinking you have to spend lots of money, that's not true!
We won't be using computers to teach the "how to" create accounts for each social media outlets (Facebook, Twitter, Youtube, Google+, LinkedIn, Pinterest, Instagram, and more). We want you to walk away with a general understanding so you can decide which ones work best for you.
We want this to be a fun learning adventure vs. a classroom setting and inspire people to improve their marketing efforts.
Tentative Agenda:
11:00am – 11:30pm: Welcome and Hors d'oeuvres/beverages
11:30pm – 12:30pm: Visualizing the "big picture"
12:30pm – 1:00pm: Learn how local businesses/non-profits are successfully using social media
1:00pm – 1:30pm: Meet local website developers and social media businesses – learn about their services so you can decide who to call for help
1:30pm – 3:30pm: Discussion and questions
You will receive a CD with useful information and contact information so you will know who to call for help (web developers and social media businesses) and what resources (classes at the college…) we have in the Greater New Bern, Havelock, and Pamlico areas.
Meet Colleen Roberts, the City of New Bern's Public Information Officer; Kevin Roberts, the Executive Director of the New Bern Chamber of Commerce; Stephanie Duncan, the Executive Director of the Havelock Chamber of Commerce; Joyce Swimm, Executive Director of the Pamlico Chamber of Commerce; Cindy Blot from the Small Business Center of Craven Community College, and Don Elmore from the New Bern Sun Journal. There will be a few more speakers so stay tuned to New Bern Now. Learn how they can help you spread your message!
The Summit is open to everyone. There will be an attendance limit of 100 people. We've had a lot of interest so register soon!
New Bern Now will be at the Isaac Taylor House, 228 Craven St. (NBN's office) during ArtWalk/Crawl this Friday from 5pm – 8pm so you can stop by and register in person. It's only $10!
Please fill out this registration form and print it. You can send it with a check payable to "NC Life Media" to PO Box 13614, New Bern, NC 28561 or save a stamp and drop it off at the Isaac Taylor House, 228 Craven Street.
For more information, please call Wendy Card at 252-638-6858, send an email with your contact information to include: your name, business/non-profit name, and phone number or visit NewBernNow.com.
Tell us what you think by commenting below or sending us an email. Visit New Bern Now's Facebook page or sign up for the latest updates by submitting your email address in the right margin on New Bern Now's website.
Wendy Card