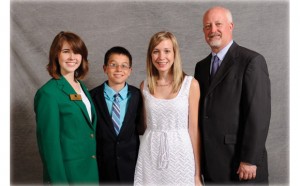 Pictured from left are:  Laura Willis, 18, Daughter of Rusty and Etta Willis of New Bern, CJ Oakley, 12, Son of Jon and Tori Oakley of Quantico, VA, Destiny Oakley, 15, Daughter of Jon and Tori Oakley of Quantico, VA.  In addition, Wayne Huddleston, business relations manager, agricultural market, Duke Energy.
A delegation from Craven County attended the 66th annual 4-H Electric Congress at the University of North Carolina at Charlotte.
Two hundred and twenty five 4‑H'ers, adult leaders and Cooperative Extension agents from 60 counties attended the three‑day event. Since 1947, Duke Energy and Dominion North Carolina Power have sponsored the annual congress to emphasize energy conservation and safe electricity use.
The 4-H electric energy program is one of the most popular activities among Tar Heel 4-H'ers. The 4-H program is the youth education program of North Carolina Cooperative Extension, based at North Carolina State and North Carolina A&T State universities. More than 237,500 young people between the ages of 5 and 19 participate in North Carolina 4-H activities each year with the help of 20,780 adult and youth volunteers.
Submitted by: Lisa Wimpfheimer