By Kate Horney (www.beyondfitphysiques.com)
If you're a cookie lover like me, this is a GUILT FREE recipe you can't miss!
Kate's No Sugar Chocolate Chip Cookie Pie (Gluten Free too!)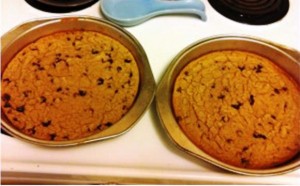 Ingredients:
– 2 cans white  beans (drained and rinsed well)
– 1 ¼ cup oat flour (I grind my own old fashioned oats)
– 5 TBSP of Stevia
– ¾ tsp salt
– 2 tsp baking powder
– ½ tsp baking soda
– ¼ cup unsweetened applesauce
– 2/3 cup unsweetened vanilla almond milk (or milk of choice)
– 3 TBSP coconut oil
– 1 TBSP pure vanilla extract
– 1 cup sugar free chocolate bar/chips
Directions:
Preheat oven to 350 degrees, and grease two 8-in round pans with coconut oil.
Combine all dry ingredients (except chocolate bar/chips) in a large bowl.
In a separate bowl, combine all wet ingredients. Put around 1/3 of the dry and 1/3 of the wet ingredients into a high-powered food processor and blend until super smooth.
Scoop out into a bowl, and repeat the process twice more with the rest of the ingredients.
Stir in the chopped chocolate bar/chips, and pour into the pans.
Bake 25-30 minutes (or 20 if you want it really gooey in the middle), then let cool at least 15 minutes before trying to remove it.
ENJOY!
P.S. Ever wondered where all the top fitness tips, quick-glance food lists, fat-loss recipes and metabolism-boosting workouts are kept?
If you liked this recipe, you'll love our EXCLUSIVE BeyondFit Life Club recipes- it's the secret fat loss club that you're going to want to be part of, with NEW members only recipes added monthly!
By Contributing Author, Kate Horney, BeyondFitPhysiques