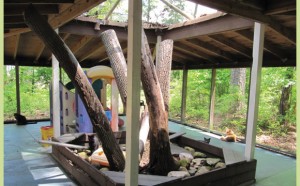 New Bern Now had the opportunity to visit The Croatan Animal Rescue and Sanctuary and was very impressed to learn more about this special natural habitat that was founded by Marie Fachet.
Marie recently joined forces with Leann Bobbit's Home at Last Animal Foundation as they shared the same vision and Leann's Foundation is registered as a 501(c)3.
During my visit they had at 100 cats and 6 dogs that they rescued.
Marie and Leann gave me the grand tour.
The cats could stay indoors or venture to the outdoor enclosure with a special roof with cat fencing border.
The best part was seeing a tree growing thru the middle of the space creating an enormous natural "scratch pad" where the cats could climb to the top and be safe from the elements and any predators.
I asked Marie if she's had any problems with wildlife and she said they've dealt with bear, coyotes, raccoons, possum, and other critters.
The good thing is the domestic animals are in a safe place because of special fencing and houses.
It was clear that all of the animals got along with each other.
Although the cats and dogs lived in separate houses, it was obvious that there was a tranquil balance on the property. Looking at their living conditions, I credit their energy to the natural habitat.
Besides running the sanctuary, Marie is a veterinary technician at Dr. Taylor's Office in Morehead City.
After seeing the animals and learning that she spends all of her free time caring for them, I have no idea how she can do both!
I really hope that you'll consider adopting one of these beauties after you see the video slideshow. I spent at least an hour at the sanctuary and didn't see any bad behavior from the cats or dogs!
They have volunteers, but they need more! If you don't have time to donate, please think about sending some money to: or giving in-kind-gifts (i.e. cat food, dog food, litter, and many more items).
For more information, please call 252-633-9251.
Please be patient as The Croatan Animal Rescue and Sanctuary and Home at Last Animal Foundation are combining their websites, for now, please visit the Sanctuary's website at to make donations or visit Home at Last Animal Foundation's Facebook page for more information.
I would like to thank Marie Fachet and Deann Bobbit along with their volunteers and everyone who donates to their mission. They truly make a difference in the lives of the cats and dogs in our community!
Tell us what you think by commenting below or sending us an email. Visit New Bern Now's Facebook page or sign up for the latest updates by submitting your email address in the right margin on New Bern Now's website.
Wendy Card