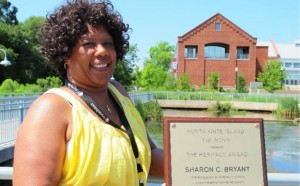 Producers for "Kunta Kinteh Island: Coming Home Without Shackles" presented Sharon C. Bryant with "The Heritage Award" on May 26. Bryant, who begins her 14th year as Tryon Palace's African American Outreach Coordinator in July, was given the award during the film's exclusive screening at the North Carolina History Center.
As an organizer for Tryon Palace's popular African American Lecture Series, African American Walking Tour and Jonkonnu Dance Troupe, Bryant was specifically honored by the film's producers "For Excellence in Community Service, History Preservation and Education."
"Getting this award made me feel really good about my work," said Bryant. "It's always good to hear but getting this award really brought it home."
The screening for "Kunta Kinteh Island" reflects the latest example of Bryant's impact on New Bern's cultural arts. The film's attendance exceeded 355 people, leaving some people to watch the film in the History Center's overflow theater, while others were happy to stand in the hall and listen.
"It was a very good turnout," said Bryant. "We would like to show it again, so those who couldn't see it before would be able to. It was very well received and we'll definitely have it back for the 2014 lecture series."
Submitted by: Craig Ramey, Marketing and Communications Manager, Tryon Palace