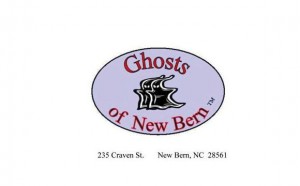 Ghosts of New Bern's extremely popular walking "ghost" tours of the downtown Historic District announces its summer schedule for the months of June, July, and August. Tours are offered at 7:30pm and 8:30pm (Wednesday through Sunday) starting at 235 Craven St. just next door to Morgan's Tavern & Grill. Tours are $12 for adults and $6 for children under 12 (no charge for infants or toddlers).
The summer schedule begins on June 5th and continues through September 1st.
Many exciting new ghost stories have been added to the tour and those who attend will be treated to a most entertaining and "spirited" evening. Ghosts of New Bern also offers a tour and dining package in partnership with Morgan's Tavern & Grill as well as the opportunity to "Sleep in a Haunted Mansion."
For tickets and information, please call 252-571-4766 or visit the Ghosts of New Bern website.
Submitted by: Amy Hammond on behalf of the Ghosts of New Bern