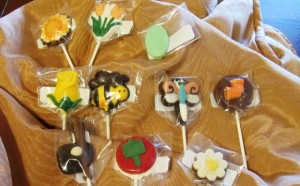 When we heard about Soo's Chocolate and Bakery, we wanted to learn more!
It was a pleasure meeting Sophia Edgett, owner and baker of Soo's Chocolate and Bakery. Sophia brought a goody bag with all kinds of sweet treats made of chocolate so we could enjoy them first hand.
Instead of keeping the savory treats, we had a contest on our Facebook page to try and help them spread the word. Within a few minutes, we had a winner!
Sophia can make all kinds of chocolate treats out of many molds. Her husband is a U.S. Marine so she also specializes in unique sweets for the military like the USMC Eagle Globe and Anchor coins among many more to include retirement cakes and cupcakes!
Some of her special molds include stars, hearts, double hearts, flowers, names, numbers, and snowflakes, to name a few.
Sophia custom makes cakes, cupcakes, suckers, and chocolate candy for occasions throughout the year. She's catered to weddings, baby showers, birthdays, retirement parties, funerals, and everything in between.
She said, "We love what we do, especially with custom orders so we can get to know each person and make their event as special as possible". They want to create fun and exciting ways to help celebrate special occasions.
Soo's Chocolate uses dark chocolate, white chocolate, mint chocolate, along with flavors like cinnamon, key lime pie, orange crème, to candy cane chocolate that is popular around Christmas.
Call Sophia at 252-876-SOOS (7667) to celebrate special occasions, order chocolate suckers, coins, and other party favors for all occasions to include custom cakes and cupcakes. Their specialty is a Pieincake.
Check out pictures on their facebook page: www.facebook.com/Soo.Chocolate.Bakery, Twitter (Soo's Chocolate), Myspace (Soo's Chocolate), 4square (Soo's Chocolate) and Pinterest (Soo's Chocolate & Bakery).
Tell us what you think by commenting below or sending us an email. Visit New Bern Now's Facebook page or sign up for the latest updates by submitting your email address in the right margin on New Bern Now's website.
Wendy Card