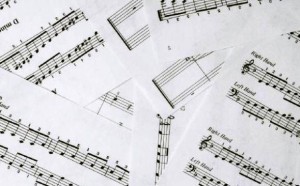 June 6, 2013, 7pm at the First Baptist Church,
239 Middle St

A Craven Community College Student Project
Kristina Skibo, Soprano. Kristina Skibo discovered her love of singing in high school, where she sang with the Missouri all-state choir in 1991. While raising her two children, Kristina returned to school in pursuit of a music degree, studying voice with Mary Jane Johnson and Dr. Steven Weber in Amarillo, Texas. After moving to New Bern, Kristina continued her education in Music at Craven Community College and began vocal training with Philip Evancho and Beverly Foster. This Fall, Kristina will transfer to the University of Kentucky to complete her degree in Vocal Performance with a possible minor in Music Education. While living in New Bern, Kristina has participated in Encore! and the Craven Community Chorus. She also is a frequent soloist at First Church Christ Scientist, New Bern.
Katherine Smith, Soprano. Katherine Smith's vocal background includes participation in SLOCO – Simsbury Light Opera Company, which specialized in Gilbert & Sullivan operas; and a week-long opera intensive program, V.O.I.C.Experience, hosted by Sherrill Milnes. Having moved to New Bern in 2008, Katherine performed a full recital in 2012 at the Bank of the Arts and completed her Associate in Fine Arts/Music degree at Craven Community College in May 2013. She also sings with the Craven Community Chorus. She serves as cantor and soloist at St. Paul Catholic Church in New Bern and performs in the annual Follies at Fairfield Harbour.
Beverly Foster, Piano. Beverly Foster holds a master's degree in Piano Pedagogy and Music Education from Northwestern University in Chicago, Illinois. After several years of teaching music, she was in public relations for the next 25 years, primarily as a magazine editor. Beverly moved to North Carolina in 2007and in 2009 returned to music as an instructor at Craven Community College.
Submitted by: Beverly Foster