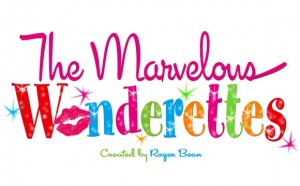 The Marvelous Wonderettes is a delightful trip down memory lane, a blast from the past, a flashback to 1958.  It is Springfield High School's prom night and the entertainment is The Marvelous Wonderettes who will showcase the pop hits of the 50's. Betty Jean, Cindy Lou, Missy and Suzy, are the Wonderettes, four best friends with hopes and dreams as big as their crinoline skirts and voices to match. The girls will start out with Mr. Sandman and Lollipop both popularized by the Chordettes and move on to other 1950 classics, many of which are done in wonderful four-part harmony.
The audience is in for a wonderful surprise as they are whisked away to the girls' ten-year class reunion in Act II. The Wonderettes perform again with high-octane and soulful renditions of classic '60's tunes and we see how their friendships have changed and endured in this captivating Off-Broadway hit.  The girls open Act II with Heatwave and continue to treat the audience to some great oldies: You Don't Own Me, Son of a Preacher Man, RESPECT, Rescue Me and many more. It is a Marvelous show of nostalgic, old time Rock 'N' Roll.
Written and created by Roger Bean, musical arrangements by Brian William Baker and orchestrations by Michael Borth, The Marvelous Wonderettes is directed by Judy Long.  Four very talented young ladies, Meghan Lucas (Cindy Lou), Bethany Kenyon (Betty Jean), Katherine Morris (Suzy), Kandee Hookstra (Missy) have been cast as the Wonderettes. The musical director is Anne Marie Skogsbakken; Carol Liutkus is the choreographer with Linda Roach producing the show.  Produced through special arrangement with Steele Spring Productions.
Shows are scheduled for April 26, 27, May 2, 3, 4 at 8:00pm with matinees on April 28 and May 5 at 3:00pm at the historic Masonic Theatre, 514 Hancock Street, New Bern, NC 28560. Tickets are $15.00 in advance, $18.00 at the door, $10.00 students with valid school ID and may be purchased at the Bank of the Arts temporary location, Cook House, 308 George Street, New Bern, 252-638-2577. For more information, please visit RiverTowne's website:  www.RiverTownePlayers.com.
The temptation to sing-a-long and/or dance in the aisles will be very powerful!
Submitted by: Linda Roach, RiverTowne Players
Rivertowne Players Present The Marvelous Wonderettes