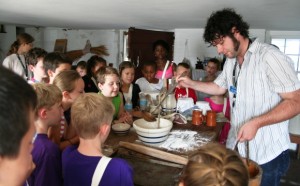 Hands-On Program "From Hearthfire to Campfire" held Friday, May 3
Tryon Palace will host its popular Home School Day on Friday, May 3. Held under the theme "From Hearthfire to the Campfire," Home School Day will focus on the valuable role food has played in shaping America's history.
Whether it was rationing and stockpiling food on the homefront or cooking it over a fire on the frontlines, children and students will learn how food was a regular source of comfort and the key to numerous victories on the battlefield. This fun-filled day immerses students in the past as they explore North Carolina's military history through hands-on activities, games and crafts.
"From Hearthfire to the Campfire" includes tours of the Governor's Palace, three historic homes, gardens and the North Carolina History Center. Attendees are also encouraged to bring a picnic lunch as they enjoy this special Home School Day at North Carolina's first capitol.
Activities are designed for school-age children and some activities may have a minimum age requirement. Craft activities will take place from 9:00 a.m. to 3:00 p.m. and families will be given take-home information and post-event activities to continue the fun at home.
Call 252-639-3524 before Wednesday, May 1 to register and get the early registration rate. Tickets will also be available at the North Carolina History Center's Ticket Desk the day of the event at a cost of $14 for students and $20 for adults.
Submitted by: Craig Ramey, Marketing and Communications, Manager, Tryon Palace and the North Carolina History Center