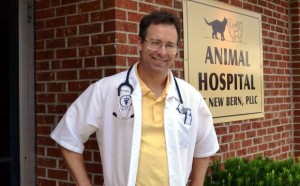 Dr. Eric Wheelis would like to announce the opening of his veterinary practice in New Bern, The Animal Hospital of New Bern. The office is located at 729 Professional Drive, across from CarolinaEast Medical Center on Neuse Blvd.
Dr. Wheelis is a practicing veterinarian with 15 years of clinical experience treating small and large animals. He graduated Cum Laude with a Bachelor of Arts from the University of North Carolina at Wilmington and then completed his Doctorate of Veterinary Medicine at North Carolina State University.
His experience includes caring for small animal patients and treating horses. As a practicing veterinarian, he has a strong interest in diabetes and thyroid disease. He also serves as a GLG council member and recently joined Craven County's Board of Health. Dr. Wheelis is a member of the American Veterinary Medical Association and is fully accredited by the USDA. His training also included the formal study of foreign animal diseases, such as foot and mouth disease, at the USDA's Plum Island facility.
The office is fully staffed and offers the following services: annual wellness examinations, new puppy or kitten exams, senior pet care, vaccines, on-site radiology and ultrasonography, on-site laboratory, surgery and hospitalization. The hospital also offers the latest PetLink pet tracking technology to help locate lost or stolen pets. The office hours are Monday – Friday, 8 am to 5:30 pm.  Early morning drop-off is also available.
An open house and ribbon cutting ceremony are planned for the near future – date to be announced.
For more information or to schedule an appointment, visit The Animal Hospital of New Bern at 729 Professional Drive, call 252-649-1520 or check out their website.
Submitted by: Millissa True, Owner, SBS Forward LLC, 252-288-4699