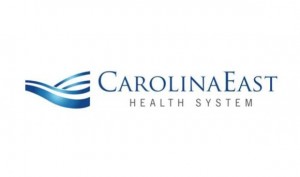 CarolinaEast Health System officials have always been very proud of the level of cardiac services the organization provides and confident that care was of the highest quality. Now others are saying the same.
In the March "State's Best Hospitals" Issue of Business North Carolina, CarolinaEast Medical Center was ranked as one of the top hospitals in the State for cardiac care and One of Business North Carolina's 30 Best Hospitals.
In addition to the Business North Carolina notoriety, the caliber of CarolinaEast's cardiac services has also been recognized by two leading health care quality measurement organizations: Healthgrades and CareChex, a division of Comparion Medical Analytics.
Healthgrades recently named CarolinaEast one of America's 100 Best Hospitals for Cardiac Surgery TM in 2013; recipient of Healthgrades Cardiac Surgery Excellence Award TM in 2013 and ranked CarolinaEast among the Top 10 in North Carolina for Overall Cardiac Services and Among the Top 5 in North Carolina for Cardiac Surgery. Healthgrades is a leading provider of information to help consumers make informed health care decisions. Healthgrades evaluates 4,500 hospitals nationwide based on performance in risk-adjusted mortality and complication rates for nearly 30 of the  most common conditions treated and procedures performed from 2009 – 2011.
CareChex recognized the caliber of CarolinaEast's commitment to patient safety with several awards in both 2012 and 2013.  Included among the 2012 awards were Top 10% in Nation for Cardiac Care, Number One in the State for Interventional Coronary Care, Top 10% in the Nation for Heart Attack Treatment and Top 10% in the Nation for Major Cardiac Surgery. 2013 awards include Top 10% in the Nation for Pulmonary Care, Top 10% in the Nation for Vascular Surgery and a repeat of the Top 10% in the Nation for Cardiac Care. All totaled 18 CareChex awards for cardiac services were received by CarolinaEast over the past two years.
"Providing quality care in all areas is essential to our mission," said Ray Leggett, President/CEO of CarolinaEast Health System. "While we are confident in all care areas, there are a few service lines where we feel we excel. Our Cardiac service line is one of those areas."
CarolinaEast cardiac services range from diagnosis and prevention to treatment, surgery and rehabilitation. A leading edge interventional cardiology and electrophysiology program provides innovative therapies and corrections for coronary artery blood flow and electrical rhythm. Cardiac/thoracic surgeons have been performing life-saving heart surgery at CarolinaEast since 1993. Once treatment and surgery is complete, cardiac rehabilitation is available to keep the heart in optimal health. In the mid 1980's, CarolinaEast became the first hospital east of I-95 to offer cardiac rehabilitation on an outpatient basis.
For more information about CarolinaEast cardiac services, call 252-633-8154.
Submitted by: Megan McGarvey, Director Public Relations, CarolinaEast Health System