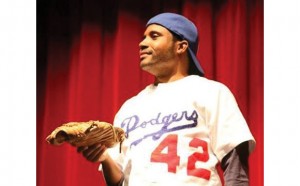 March 21, 7pm, Cullman Performance Hall,
North Carolina History Center
"Jackie Robinson: A Game Apart" is a unique on-man play that will intrigue, educate and set one's thirst for success on fire. This is a truly powerful lesson of courage through the eyes of African American athletes who pushed the color barrier to its breaking point.
See the dedication and leadership of role models from the outfield, the backcourt, the track, the ring, the blacktop – all pouring out the sweat and tears of a bygone era of separate unequal locker rooms, whites-only hotels and restaurants with only a back door through which colored athletes could enter.
In addition to numerous performances on the local and national level, Wiley has been featured on the Discovery Channel, Learning Channel and National Geographic Channel.
Bring an Appetite for Food Inspired by the Ballpark!
For more information call 252-639-3592 or visit Tryon Palace's website.
Submitted by: Sharon Bryant