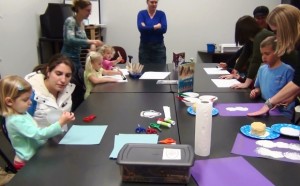 Craven Smart Start and Child Care Resource and Referral is sponsoring a free family concert on Friday, March 15th from 6:30pm-7:30pm at the Tourist and Event Center in Havelock.  Anna Pridgen, "The Puppet Lady" will present an evening of fun and learning for youngsters and their parents, as she entertains with puppets and music. The concert is designed primarily for families with preschool children but older children will also enjoy the show.
Ms. Pridgen, the creator and co-author of "The Adventures of Sam the Shark", has been involved in Early Childhood Education since 1991. Since graduating from ECU with a Bachelor's Degree in Early Childhood Education and Family Relations, she has worked as Pre-K teacher, taught kindergarten, trained college students at ECU's Child Development Lab and owned and operated her own large family child care home. In 1997 Ms. Pridgen bought her first puppet and soon realized that puppets are an amazing tool for teaching.  Her main goal is to instill in children and adults a love of learning.
The family concert is free, but cash donations are welcome. Parents are asked to pre-register by calling Child Care Resource and Referral at 252-672- 5921 Ext 21.
Craven Smart Start, Inc. is a 501(c)3 non-profit that administers the funding and programs of Smart Start, North Carolina's early childhood initiative, in Craven County.  The mission of the program is to ensure that every Craven County child, birth through five, receives the education, health and family support necessary to arrive at school ready to succeed.  Child Care Resource and Referral, which is operated by Craven Smart Start, works to improve availability, affordability, and quality of child care in Craven County.  It also provides free child care referral services to families and operates a resource lending library for parents, child care providers and the public.  For more information about Craven Smart Start, call 252-636-3198.
Submitted by: Pinkie S. Moore, Community Outreach Coordinator, Craven Smart Start, Inc.