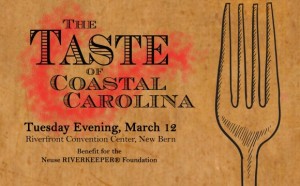 Listen to Laura Johnson's community segment for New Bern Now on Radio Free ENC WNOS 105.9FM or 1450AM:
This year's 10th Annual Taste of Coastal Carolina at the New Bern Riverfront Convention Center, Tuesday, March 12, 6:30 pm, promises to be a great food fest!  Twenty-eight different food purveyors will be there serving the menu below and much, much more!
Come enjoy food and camaraderie, and vote for your favorite restaurants! Last year was almost completely sold out, so don't wait to get your tickets. General admission tickets for the Taste are $30. Tickets are available at the New Bern Harris Teeter, The Funky Monkees, Cravin' Wine in James City and Mitchell Hardware downtown. In Kinston, tickets can be purchased at the Kinston-Lenoir County Visitor & Information Center.  The County Compass in Bayboro and Nautical Wheelers in Oriental also have tickets.  Tickets are also available online at www.neuseriver.org.
A very limited number of Patron Tickets are still available for $100 per person. A Patron receives extra benefits: a tax deductible contribution of $65, reserved seating, a private bar with free wine, beer, and champagne, priority entry, and attendance at the pre-event reception. Please go to www.neuseriver.org, or call Sherrie at 252-637-4580 to purchase a Patron ticket.
Here Are A Few Menu Items From Our Twenty-Eight Restaurants!
Appetizers
Tuna Burger Bites, Bourbon-glazed Meatballs, Grilled Vegetable Wraps, Bourbon BBQ Chicken Bolsa, Crostini w/Goat Cheese , Cucumber Cured Salmon, Potato Blini w/Creme Fraiche, Sesame-Cashew Dumplings, Stuffed Creminis, Mini- Reubens, Crab and Spinach Queso, Sweet Potato Fluff
Soups
Tomato Bisque, Butternut Squash Soup w/Candied Walnuts, Italian Wedding Soup w/Benton's Bacon Meatballs, Clam Chowder
Salads
Greek Bean Salad w/Feta, Citrus Crab Salad, Antipasto Salad, Ambrosia, Southern Chicken Salad, Layered Salads
Entrees
Beef Meat Ball Curry, Chicken Tikka Masala, Boneless Beef Short Ribs with Plum Glaze, Bacon Wrapped Pork Tenderloin with Peppercorn Cream Sauce, Chile Rellenos, BBQ Pork w/Slaw & Hush Puppies, Crab and Shrimp Quesadillas, Enchiladas, Mac & Cheese
Desserts
Carrot Halwa, Mocha Cheesecake, Lemon Cheesecake, Decadent Fudge Brownies, Carrot Cake, Fudge, Cookies, Dessert Bars, Biscotti and Gourmet Coffee
Submitted by: Sherrie Starr, Neuse RIVERKEEPER ® Foundation