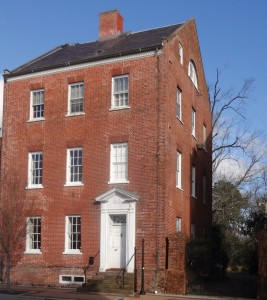 Listen to Laura Johnson's narration about the Isaac Taylor Garden to be aired on WNOS 105.9FM and 1450AM:
Opening the wrought iron gates to the public during Artwalk!
Hosted by the newest event venue in New Bern, the Isaac Taylor Garden invites you to enjoy the creative activities in the garden during Artwalk on Friday, March 8, 2013 from 5pm to 8pm. Mike Lentz recently acquired the landmark structure built in 1792 located at 228 Craven Street. Lentz will keep the grounds available for public or private events which include a catering facility. In addition, Lentz says that the site will hold several hundred people and is pleased to host the ever-growing movement of bohemian artists to his new facility. More info, visit www.itaylorgarden.com
Artist Michaele Rose Watson explains the idea behind the artwalk event, "Bohemian is the practice of an unconventional lifestyle, often in the company of like-minded people, involving musical, artistic, or literary pursuits." In bohemian fashion, artists and performers will be staged in the historic outdoor facility during artwalk.  Creative activities include sketching, exhibiting, painting, performing, reading poetry and throwing clay. More info, visit  www.facebook.com/BohemianNewBern
Artist Lisa Bisbee encourages the artists to demonstrate their talents during the artwalk event. The following artists will share their creative process: Ben Watford, Ashley Layne, Stan Harmon, Blaine Kruger, James Herring, Sue Lawrence-Nester, Michaelé Rose Watson, Donatella Cristoforetti, Sarah Thrasher, Jerry and Nancy Zachewicz, Habitat for Humanity Chair-ity, Gary & Janice Peterson, Robin Griswold-Ott, Dara Merrell Morgan, Meg Wethington, Bridgette Swayne, Thomas Munday, Tracey Marcrum, Ed Macomber, Chris Wagner, Amber Ayala, Liz Steiner, Phil Bowie, Dillon Gunn, Alessandro, Dan Wilson, Jerry Scott, Jon Derby, Lee Hood, Pete Frey, Carol Jones and more!
Submitted by: Artist Lisa Bisbee, Greater Good Gallery and the Isaac Taylor House and Gardens