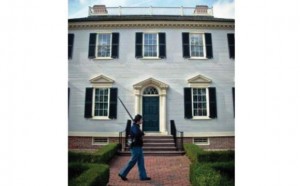 Tryon Palace Hosts 'Civil War Weekend: Keepers of the Town'
March 9-10
After its fall to Union troops in March of 1862, New Bern remained a Federally-occupied city for the remainder of the Civil War. Experience life in New Bern during that occupation as Tryon Palace invites visitors to go behind Union lines for "Civil War Weekend: Keepers of the Town."
Held the weekend of March 9-10, Tryon Palace brings New Bern's rich history to life with Civil War tours, soldier encampments, lectures, crafts, a special opening of the New Bern Academy Museum and A Soldier's Ball. All combined, Civil War Weekend promises a fun-filled journey into New Bern's past with living history programs that are both insightful and interactive.
"New Bern has a very unique Civil War story to tell," said Karen Ipock, Education Programs Manager for Tryon Palace. "The town basically became a military base overnight—the homes of New Bern's elite became hospitals, offices and headquarters. Civilians had to adjust to life in a town occupied by their enemy and Union soldiers had to adjust to a very different life from the frontlines. Many others found the town a beacon of hope and a place of freedom. These are the many stories we want to share with everyone through a weekend of special events."
Celebrations, parties and balls were a common distraction for the Union soldiers stationed in New Bern during the Civil War and Civil War Weekend will be no different. A Soldier's Ball brings those nights back to life on Saturday, March 9 with historic dances, games and libations at the N.C. History Center. Civil War costumes representing Confederate and Union troops, as well as modern casual attire, are all welcome at A Soldier's Ball. Music and dancing instruction will be provided by The Huckleberry Brothers and a cash bar selling beer and wine will be available for those 21 and older. Tickets purchased before 4 p.m. on Thursday, March 7 are available at a discounted rate of $10 for adults and $7 for students.  Tickets after that date and at the door will be $12 for adults and $9 for students. A Soldier's Ball will be held from 7-10:30 p.m. and all tickets include light refreshments. To register early, call 252 639-3524.
Civil War Weekend also offers a Union Soldiers' Encampment and several rare tours that are only available during this special Tryon Palace event. Tours on both Saturday and Sunday will give visitors a chance to weave through the historic Dixon and Stanly Houses, as well as a rare opening of the New Bern Academy Museum—North Carolina's oldest public school building and a hospital during the Civil War. The New Bern Academy Museum is only open on special occasions and is home to many of the Civil War artifacts in Tryon Palace's collection. All tours of historic homes and the New Bern Academy Museum are included with the cost of admission. Those only wishing to see the Union Encampment may purchase a Garden Pass for $6.
Crafts from the Past will explore the bigger picture of war through family craft activities and a special interactive gallery. Focused on creating soldier journals and dice games, this one day event will be held in the N.C. History Center's Activity Classroom on Saturday, March 9, from 10 a.m. to 2 p.m.  Crafts are $3 per child or free with the cost of admission.
Guest speaker Douglas Batson brings Confederate General Daniel Harvey (D.H.) Hill to life with two free lectures inside the N.C. History Center's Cullman Hall.
Batson's first lecture, entitled "D.H. Hill in 1862: A Critical NC General in the Army of Northern Virginia," will be held at 11 a.m. on Saturday, March 9. Batson's first person portrayal of the acerbic general—also known as the brother-in-law of Stonewall Jackson— in the Seven Days Battles and Sharpsburg spares no one from criticism … not even General Lee.
The second lecture, held at 2 p.m. on Sunday, is entitled "I Will Not Submit to the Swindle: General D.H. Hill in North Carolina in 1863." Also told from Hill's perspective, this living history program uses letters and correspondence to illuminate the frustration and personal loss between the general and his wife, Isabella.
For additional information about "Civil War Weekend: Keepers of the Town," call 252-639-3500 or visit www.tryonpalace.org.
Submitted by: Craig Ramey, Marketing and Communications Manager, Tryon Palace