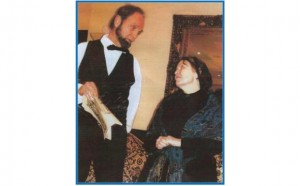 The New Bern Historical Society and Tryon Palace present The Lincolns: An Intimate Portrait portrayed by Paul Switzer & Alma Gibbons on Sunday, March 17th, 2013 at 2:00 pm at The Way Station Theatre of Tryon Palace, on the corner of Pollock and George Streets.
Join us for a rare opportunity to eavesdrop as the Lincolns prepare for their upcoming newspaper interview on the last day of President Lincoln's life, April 14, 1865.  As they discuss many details of their lives together, we will experience a rare insight into the world of this memorable couple, played by two of New Bern's finest character performers. Their young son Tad may appear as well.
The Lincolns will be introduced by Bernard George of the Historic Society and escorted by the color guard of the United States Colored Troops.
After the program, attendees are invited to meet the Lincolns in a reception line and enjoy refreshments and sample President Lincoln's favorite desert!
Paul Switzer and Alma Gibbons have portrayed President and Mrs. Lincoln many times.   They met as character interpreters at Tryon Palace where they have depicted various historical characters of New Bern.  Both have been 'ghosts' in the annual Ghost Walk and never fail to delight the crowds.
Tickets are $10 for all adults; $5 students with ID. Call the New Bern Historical Society at 252-638-8558 for advance tickets as seating is limited.
This is an event not to be missed!
Submitted by: June Dunleavy, Programs Chair, New Bern Historical Society