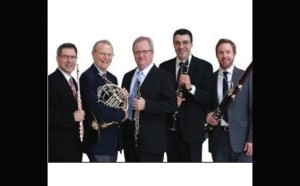 Tryon Palace Performing Art Series Concert Held Jan. 25 at Cullman Hall
The Ventus Quintet welcomes pianist Barbara McKenzie for a night that celebrates France's most inspiring and lighthearted musical tastes. Presented by the American Music Festival and the Tryon Palace Performing Arts Series, Ventus promises to bring each audience member into the captivating world of French wind music with a concert of humor-filled, full-throttle virtuoso antics for flute, clarinet, oboe, horn and bassoon.
Held Friday Jan. 25 at Cullman Hall, located just inside Tryon Palace's North Carolina History Center, this American Music Festival Concert will be filled with France's favorite musical voices, including Debussy, Poulenc, Milhaud, Dukas and Ibert. In addition to special guest McKenzie on the piano, Ventus members include: Tadeu Coelho, flute; David Jolley, French horn (New York Orpheus Ensemble); Robin Driscoll, oboe; Oskar Espina-Ruiz, clarinet and Saxton Rose, bassoon.
The evening will begin with a preconcert conversation with the artists at 7 p.m., followed by the musical performance at 7:30. Doors open at 6:45 p.m. and tickets are as follows: $25 for adults, $20 for Council of Friends and Active Military, $10 for students.
For tickets call 252-639-3524 or visit the North Carolina History Center's ticket desk. Tickets are also available at the performances and seating is general admission. For guests with hearing difficulties, special devices are also available and should be requested when ordering tickets or at least 48 hours in advance of the performance.
Ventus is presented by the American Music Festival and the Tryon Palace Performing Arts Series. Media sponsorship has been provided by Public Radio East and the New Bern Sun Journal.
Submitted by: Amy Hammond, New Bern – Craven County Convention Center for Craig Ramey, Marketing and Communications, Manager, Tryon Palace