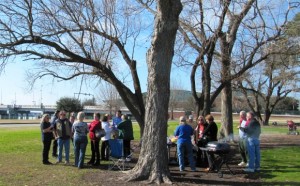 What a beautiful day to celebrate the New Year and New Bern Now's 4th Community BBQ Picnic!
The first BBQ Picnic was held in the Croatan National Forest next to a beaver dam last summer.
More people turned out for the second BBQ at Union Point Park. This time we decided to have a jar for people to donate a few dollars and write down their favorite charity to win the money by a drawing at the end of the event. The lucky non-profit was the New Bern Historical Society and received $45 in donations.
Over 30 people gathered at the Lions Shelter at Glenburnie Park for our 3rd BBQ Picnic. The menu expanded from Buffalo wings, pulled pork, chicken tenders, coleslaw, to special recipes and food that guests brought to compliment the main courses! We collected $94 and all the money was donated to Bike MS: Historic New Bern Ride!
New Bern Parks and Recreation does a fantastic job maintaining 20+ parks. Although the City of New Bern was doing construction at the Main Entrance to Union Point Park today, we had a good turnout! Special thanks to everyone who came out to enjoy the beautiful weather and mingle!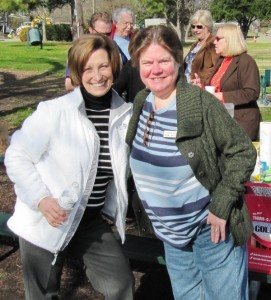 We'd like to give special thanks to everyone who came out to enjoy the BBQ, beautiful weather and who donated to their favorite charity (raising $67).
– Lisa Bisbee, Artist and Owner of the Greater Good Gallery
– Laura Johnson, New Bern Now's Radio personality
– John Griffin, Volunteer for the New Bern Historical Society
– Kathy Sirpilla, Homeplace of New Bern and President of the Coastal Women's Forum
– Howard Carrier, Craven County Veterans Council and Member of the Veterans of Foreign Wars
– Darlene Brown, Executive Director, Craven County Partners In Education
– Paul Brown, Manager of the ABC Store, Downtown New Bern
– Lisa Wimpfheimer, Gigi Hil Bags Representative
– Claudia Houston, Independent Consultant for Creative Memories and Volunteer for New Bern Historical Society
– Richard Sheridan, Owner of Crystal Coast Discovery Maps and New Bern Now's Map Man
– Sallianne Sheridan, Laboratory Technician for Dr. Todd Rankin
– Carol Stewart, Owner of the Healthy IQ and Miche Bag Representative
– Tom Stewart, Online Marketing Strategist and Website Developer
– Beth and Marc Fairchild, Owners of Lucky Street Tattoo
– Thea Kincaid of Thea's Ideas and the face of New Bern Now's video spotlights
– Carol Hardy
– Dona Baker, Owner and Trainer, Masterful Dog Training
– Mike Lentz, Owner, MJ's Raw Bar and Grill
– Holly Blake, Owner, AWEN Holistic Skin Care
– Sonja Babic, Owner and Broker, Prime Realty
– Mike Haines, Retired Navy EOD with Cassie Wallace
It was really good to see friends and others who I've corresponded with via email and/or Facebook and finally meeting them in person! We had a great time and can't wait until the next one!
So far, we've been inviting Facebook friends. If you don't receive an invitation on Facebook, please send me an email or comment below if you'd like to be added to the list for future community picnics!
The next BBQ hasn't been scheduled yet, but will probably happen at the end of February or the beginning of March. Please let me know if you will be attending so we will have enough food.
Thanks to Laura Johnson for cooking the pulled pork and helping me prepare everything. I couldn't have done it without your help!
Tell us what you think by commenting below or sending an email. "Like" New Bern Now's Facebook page to follow the latest happenings!
Wendy Card