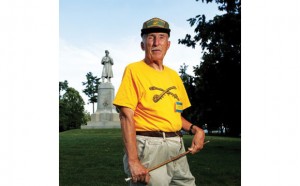 America's Premier Battlefield Historian will present
Turning of the Tide:  Gettysburg and Vicksburg
These fascinating events will be told as only Ed Bearss can tell them!
Anyone who has been to an Ed Bearss program knows he is fascinating to watch and listen to.
This remarkable man is approaching his 90th birthday and shows no signs of slowing down.
Sunday, January 13, 2013 – 2 pm at Christ Church Ministry Center, 311 Middle Street in New Bern.
Donation:  $10 for Battlefield Park (tickets will also be sold at the door)
Sponsored by the New Bern Historical Society and the New Bern Civil War Round Table.
For more information, please visit the New Bern Historical Society's website or call 252-638-8558.
Submitted by: June Dunleavy, New Bern Historical Society