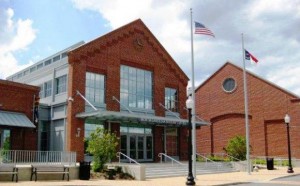 Tryon Palace and the North Carolina History Center in New Bern will begin 2013 with a new Marketing and Communications Manager. Craig Ramey, an award-winning journalist with extensive experience in publishing, editing, social media and global marketing will be the new media contact for all communications activities effective January 1, 2013.
Ramey was chosen for this position as part of an ongoing effort to broaden awareness for Tryon Palace, as well as the rich cultural resources available at the North Carolina History Center. Working to increase engagement on social media platforms, as well as streamline relationships with traditional media on the local, state and national level, Ramey's efforts will be focused on reaching a larger audience for Tryon Palace and promoting the visitor experience. Ramey will use e-newsletters, blogs, advertisements and other digital communications to promote the wide variety of events and activities at Tryon Palace.
"We are excited to bring Craig on board," says Acting Director, Philippe Lafargue. "He brings to us the depth of skill Tryon Palace needs to continue to thrive in today's rapidly changing communications environment. We're looking forward to working with Craig to strengthen our marketing programs and to find new and exciting ways to tell the Tryon Palace story."
Born in the Piedmont town of Thomasville, NC, Ramey has been a resident of this state nearly all his life. After graduating with a BA from East Carolina University's Creative Writing program, Ramey briefly lived on Ocracoke Island before moving to Morehead City to work as a journalist, writer and photographer. After winning first-place awards for his writing on the national and state level, Ramey moved to Beaufort and worked as the Managing Editor for 13 publications, including New Bern Magazine. Most recently handling the public relations, marketing and writing needs for a global manufacturer based in New Bern, Ramey brings more than a decade of related experience to Tryon Palace. Ramey currently lives in New Bern's historic Riverside community with his wife, an elementary school art teacher, and 3-year-old son.
To contact Ramey for upcoming communications and marketing needs, he can be reached via email at or by phone at 252-639-3511
Submitted by: Amy Hammond, New Bern – Craven County Convention Center