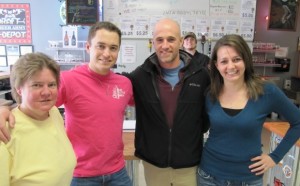 I had a great time kicking off the beginnings of a New Year by meeting up with Bo Bissett and Laura Johnson at the Beer Army Outpost in New Bern!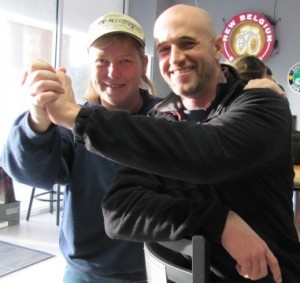 It was fun catching up with New Bern's own, Bo Bissett, Man vs. USA (on bicycle). I haven't seen him since he left New Bern on his bike last April for his five month Coast to Coast Globetrekk.in' journey! I lived vicariously through Bo's travels. I really enjoyed catching up with him today!
This was Laura's first time meeting Bo in person, as she also followed his adventures by reading about them online.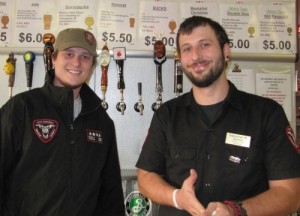 The Beer Army was the place to be today! Besides their friendly team of bartenders – Heath Perkins and Sebastion Gianino; we ran into WCTI News Channel 12's Tori Shaw, Weekend Meteorologist and Reporter, and Kyle Horan, Anchor and Reporter, along with many other patrons.
If you've never been to the Beer Army Outpost, it's a must visit! They've been raising money for charities and the Wounded Warrior Project for the past few years.
It's a friendly, bright, and family oriented atmosphere! This is not a dark or shady tavern. It's a one of a kind business that sells North Carolina beer along with brews from around the World. It also gives people a taste of what they can't find anywhere else in New Bern, NC. Stop in to purchase a six pack of specialty beer or enjoy a nice cold special brew at their bar!
Read about our first visit about the Beer Army Outpost here.
The Beer Army Outpost is located at 1244 Hwy 70 E in James City, call 252-633-5060.
We wish you a safe and Happy New Year Eve's!
Tell us what you think by commenting below or sending us an email. Don't forget to visit New Bern Now's Facebook page!
Wendy Card