The Beer Army has been raising money for charities and the Wounded Warrior Project for the past few years. When I heard that they opened the Beer Army Outpost in New Bern, I had to check it out!
Laura Johnson and I visited the Beer Army Outpost today and had the pleasure of meeting their staff and patrons.
Our first and lasting impression was the friendly, bright, and family oriented atmosphere! This is not a dark or shady tavern. It's a one of a kind business that sells North Carolina beer along with brews from around the World. It also gives people a taste of what they can't find anywhere else in New Bern, NC. Stop in to purchase a six pack of specialty beer or enjoy a nice cold special brew at their bar!
I enjoy the taste of beer on a hot summer day, but it's usually a Coors Light. Today, I splurged by trying a pint of Shakespeare. It brought me back to my days in Scotland drinking a nice Guinness. I haven't had a Guinness in a long time and I think Guinness Stout may have met it's match! Laura tried their hard cider since she's never had it and she told me she plans on going back for another!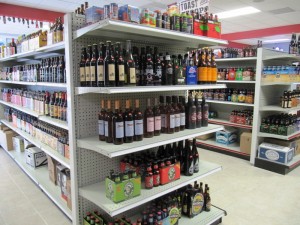 We met Scott Andrews, their Public Affairs Officer. He is also known in our community as the previous Producer for WCTI's News Channel 12's 6pm and 11pm news.
Scott was happy to tell us more about the Beer Army Outpost and their efforts in promoting and supporting our local non-profits.
Each month, they raise money through two exceptional programs.
Every dollar of their "Sample Flights (four short glasses of your choice brews) goes to charity.
They also have charity night once a month where patrons learn more about the non-profit with a guest speaker and they contribute $1 to every pint purchased to the selected charity.
During the month of July, you can support the New Bern Historical Society by enjoying a pint of ale, beer, cider, or other special beverage.
Since opening, the Beer Army Outpost has supported A Dog's Dream, Dreamers Foundation and the Museum of Marines.
They have 650+ types of beer with an entire shelf dedicated to North Carolina Breweries. The other shelves are lined with brews from around the World.
You may notice a line-up of taps displayed on the ceiling. They resemble kegs that they've served since they opened. If you stop in today and enjoy what's on tap, there may be new ones on tap tomorrow. They have 11 kegs on tap every day.
Stop by and enjoy soft rock music, play a game of darts, or just relax and talk with locals. You can also support their cause by purchasing t-shirts, hats, drinking glasses, and more!
We met Alex Dunn and Gabbi Greco and they were kind enough to let us take their photo with their "Sample Flights".
They invite women to join their "female drinking club" on the 2nd Wednesday of every month. This is a women's networking group that sets up different events. They've been working on a food and beer paring event, they're also brewing their own beer, and pitch in $1 per meeting to save up for tours to North Carolina Breweries.
To make sure patrons have food choices, the Beer Army Outpost has partnered up with Gina's Pizza for delivery.
They have special nights throughout the week! Here's a few of them:
Monday: Mark Down Monday where they mark down awesome beers for cheap (2 dollars or less).
Tuesday: Trivia night where you and/or a partner answer 25 questions (five different categories).
Wednesday: Free Brewery Pint Glass with first pint purchased.
Thursday: Mother of All Beers (MOAB) night. Enjoy infused beer with unique elements (i.e. vanilla beans, coconut, coffee beans, hops, and more) that enhance the flavor of specialty beer.
Fun fact: They patented a duplicate of the 1st draft system ever created, imported from England. Back in the day, the beer was stored in cellars at 50-60 degrees. This unique system was used to pull the beer up from the kegs. It draws the beer up like a well instead pushing it up with CO2. It gives you that old pub taste.
Community Groups are welcome to meet at the Outpost at no charge.
Special thanks to Dustin Canestorp, the Founder of the Beer Army, Scott Andrews, Heath Perkins, Sebastion Gianino, and Beer Specialist Matt John.
Ask them about becoming a member of the Bravo Force! They are patrons who have completed a 30 day beer challenge and ultimately are "patched over" and receive a green patch with an official Beer Army T-shirt.
Hours of Operation: Monday – Thursday: 12pm – 9pm; Friday: 12pm – 12am; Saturday: 10am – 12am; Sunday: 12pm – 8pm.
Visit the Beer Army Outpost at 1244 Hwy 70 E in James City, call 252-633-5060, check out their website or follow them on Twitter and Facebook!
We look forward to our next visit and supporting this terrific new asset to New Bern!
Tell us what you think by commenting below or sending us an email. Visit New Bern Now's Facebook page to keep up with the latest happenings!
Wendy Card