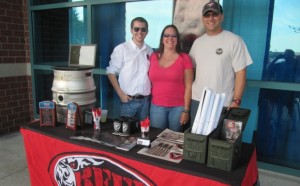 After deliberation between 26 sites in Eastern North Carolina (ENC), Beer Army is excited to call Trenton home to their new brewery. As a philanthropist organization, Beer Army believes the brewery will have a much larger economic and social impact in Trenton and Jones County as compared to other towns and large cities in ENC.  The site will be in the Trenton industrial park located in Jones County which opened in 2002. 
The building is located on Industrial Park Drive just outside Trenton and is a 10,500 square foot facility, including a laboratory area that will be used as a yeast lab which will be the first one of its kind for any brewery in the state. In addition, the brewery will create 18 to 24 jobs with Beer Army spending over $2.7 million over the next 5 years. 
Within the brewery there will be a fully operational tap room with Beer Army Combat Brewery Beer being offered to drink onsite. Beer will also be available for purchase directly from the brewery for off-site consumption.  There will be brewery tours on weekends so citizens will have a chance to come and see the brewing process first hand.
Beer Army will start in December thanks to over $300,000 worth of building renovations provided by the Jones County Economic Development Commission to get the building ready to brew beer. The Beer Army Combat Brewery plans to produce 1,200 barrels of beer in the first year and ramp up to 15,000 barrels of beer by the fifth year of operation.
Brewing Officer, Jeff Brungard, recently finished schooling at the Siebel Institute of Technology and World Brewing Academy in Chicago. Siebel is America's oldest brewing school, educating for 140 years and is considered by many as the top brewing school in the world.  He is currently studying at the world famous Doemens Academy, Germany's most popular brewing school located in Munich and will be back in December to start work with the brewery.  Jeff is an award winning home brewer that has brewed for almost two decades and recently retired from the Marine Corps this past summer with over 28 years of service.
Beer Army believes that the Trenton brewery site will broaden the company's sphere of influence in EN