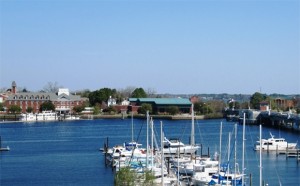 New Bern Parks & Recreation is pleased to bring you the 28th Annual Coastal Christmas Flotilla on December 1st.
The Flotilla was founded in 1984 by The Swiss Bear and a number of boaters from the Eastern Carolina Yacht Club.  These groups, in association with the avid boaters of the New Bern area, have made this one of the premiere holiday events in Eastern North Carolina.
This tradition has been carried on by the Lower Neuse Initiative, and for the past 10 years, New Bern Parks & Recreation.
The flotilla features various types of water craft, from small boats to large yachts, all decorated in their own unique way.
The parade of boats will begin at the Eastern Carolina Yacht Club, sail down the Trent River past the DoubleTree by Hilton Hotel at approximately 6:00pm, then on to Union Point Park, Council Bluff Green Park, and back.
Santa will greet children in Union Point Park at the conclusion of the Flotilla.
Registration is underway now!  For more information, please contact Nicole Dewar at 252-639-2902.
Submitted by: Nancy Donahue, New Bern Parks & Recreation