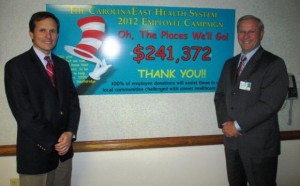 Each year the employees of CarolinaEast Health System participate in an organization-wide effort to raise money for the CarolinaEast Foundation and the local health care initiatives the Foundation supports in Craven, Carteret, Jones, Onslow and Pamlico counties. This year's Employee Campaign, which had a Dr. Seuss-inspired "Oh, the Places We'll Go!" theme, took place September 17th – 28th, 2012.
CarolinaEast employees have always been strong supporters of the Foundation's goals and the success of the 2012 fundraising effort proved that their commitment is unchanged. Over 48% percent of CarolinaEast's 2100 employees contributed to the two-week campaign. Donations could be made in various forms (paid time off hours, payroll deduction or direct donation).
Pledges shared during this year's campaign topped all previous efforts totaling $241,372.00.
These gifts are made to further the mission of the CarolinaEast Foundation – identifying unmet health care needs in Craven, Jones and Pamlico Counties and providing financial resources to help meet those needs. "Once again we were blown away by CarolinaEast employees' commitment to our mission and their unbelievable generosity.
Knowing that 100% of their gift, no matter the amount, stays right here in our community and that each dollar truly makes a difference is why employees continue to give and why our success continues to grow each year," said Jill Thompson, Executive Director of the CarolinaEast Foundation.
Each year, the Employee Campaign is spearheaded by an all-volunteer group of about 100 CarolinaEast staff members from across the organization. These volunteers seek gifts from peers and co-workers in addition to organizing all aspects of the campaign which includes a "main event" for participating employees on September 24. Local businesses and community sponsors donated incentive prizes for the event. Employees could be eligible to win those prizes for various levels of contribution to the campaign.
The day-long event included a Seuss-themed obstacle course, costume contest, carnival games, raffles and other ways for staff members to have a little fun while supporting the Foundation.
Past campaigns have had huge impacts on the health of Coastal Carolina. For example, in 2011 the CarolinaEast Foundation Employee Campaign raised roughly $182,000. 00. Since then, those funds have been used to help local groups such as MERCI Clinic, Twin Rivers YMCA, Phoenix House, Promise Place, and the Craven County Health Department Foundation as well as funding individual patient assistance with prescriptions, transportation to and from treatments or appointments, hearing aids, mammograms and a broad range of other medical expenses.
For more information about the CarolinaEast Foundation and how to support, call 252-633-8247 or visit www.CarolinaEastFoundation.com.
Submitted by: Megan McGarvey, Director, Public Relations, CarolinaEast Health System