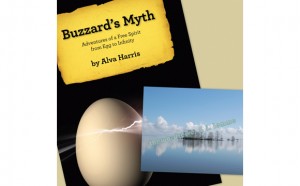 If you know someone who fits one or more of these categories, the following gift package will be hard to beat for a winner.
This winter season, Alva Harris, author and Hyde County native, offers a gift to his home state of NC and all who visit, not just through his lyrical words of his historical novel, but also through a mesmerizing photo of one of the state's coastal wonders. A stunning 5×7 print of Lake Mattamuskeet, North Carolina's largest lake, will accompany sales of his book Buzzard's Myth: Adventures of a Free Spirit from Egg to Infinity through January 2013.
The entrancing imagery in this photograph was captured by Ingrid Lemme, publisher of the Swan Quarterly magazine, and is available exclusively for this special offer.
Purchase this limited offer direct from the author/publisher via www.buzzardsmyth.com.  Just $14!  Free gift wrapping is available if requested!
Note: The print book and eBook is also available through online retailers everywhere, but may not include this special seasonal offer.
Submitted by: Janet Green, Editor, The WordVerve Inc.