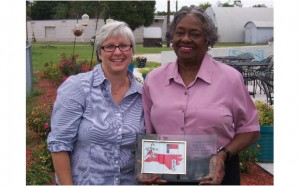 Carolyn Bland has spent years advocating for the needs of older adults within her city, county, and throughout North Carolina. Last week, the North Carolina Association of Area Agencies on Aging honored Mrs. Bland by awarding her the Margaret Hart Hardee Preeminence in Aging Award.
Mrs. Bland became interested in public policy issues as a community volunteer and board member of senior, women's shelter, and mental health agencies. It was during her time as a Silver Line volunteer with United Senior Services in the 1990s (now Craven County Senior Services) when she became aware of the needs and problems of elderly people who were isolated or confined to their homes, and the absence of programs to address those needs.
"Carolyn has focused on the needs and issues of older adults and has helped develop public policy not only within the aging network, but in community development as well," says Tonya Cedars, Eastern Carolina Council Area Agency on Aging Director, "she has worked to develop plans and programs that promote home ownership for both older and young adults, and families." Cedars added, "as a member of the Craven Aging Planning Board, Carolyn helps assess the needs of older adults, evaluates aging programs, and develops budgets that are submitted to the Craven County Board of Commissioners." She has made an impact of the types of programs and services that are offered to older adults within the county.
Mrs. Bland has influenced public policy on a local, regional, and state level throughout her years of service. She serves on the Craven County Aging Planning Board, Craven County Senior Services Advisory Board, Coastal Women's Shelter Board of Directors, and the Neuse River Community Development Corporation Board of Directors (NRCDC). In addition, Bland serves as the Craven County Delegate for the North Carolina Senior Tar Heel Legislature. She is a past member of the Cherry Hospital Community Relations Committee in Goldsboro and past Vice-President, and President of the Eastern Area Sickle Cell Association Board of Directors in Jacksonville. This agency serves nine counties.
Mrs. Bland is also a member of the Governor's Advisory Council on Aging. She promotes issues concerning older adults before the North Carolina General Assembly and assesses legislative needs of the elderly. In addition, Mrs. Bland develops and evaluates plans that affect the quality and scope of services to the elderly; she studies programs which provide services to older adults, helps identify aging issues, and recommends actions on the same to the Governor through her service on the Governor's Advisory Council on Aging.
Submitted by: Jillian Hardin, Aging Specialist, Eastern Carolina Council Area Agency on Aging, 233 Middle Street, 252-638-3185 ext 3015