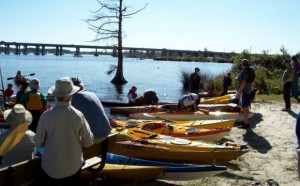 The Twin Rivers Paddle Club is a canoe and kayak club in New Bern. We are sponsored by the Craven County Recreation and Parks Department.
Join us on October 21, from 1 – 5pm at Lawson Creek Park for a "Boat Demo" conducted by the Twin Rivers Paddle Club (TRPC) in conjunction with a "Community Paddle" by the Craven County Recreation and Parks (CCR & P).
Both events are open to the public at no cost. Our boat demo has been a huge success every time we hold one, which is usually twice a year.
Club members bring their personal canoes/kayaks and gear (paddles, PFD's, etc.) and encourage and assist newcomers to give paddling a try. They have the opportunity to try out as many different water craft as they like.
The "Community Paddle" is an actual canoe/kayak trip fully supported by TRPC. Club members paddle along with those wishing to enjoy a short trip on the water.
Along with these two great events, both the TRPC and CCR & P will be serving up refreshments. TRPC's own, Chef "Bill" Sadler will be competing head to head with Craven County Recreation and Parks, Chef "Mark" Seymour, in a hot dog grilling competition!
Join in the fun, paddle one of our kayaks, and perhaps even become a member. Visit our website for more information!
Submitted by: Rick Tollmann, Twin Rivers Paddle Club