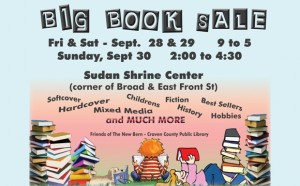 The Bi-Annual Book Sale will benefit the New Bern Public Library, September 28 – 30, 2012
The New Bern Friends of the Library Fall Book Sale will be held in the basement of the Sudan Shriners' building at 403 E. Front Street, New Bern NC 28560 (entrance on Broad Street) on Friday, September 28 from 9 am to 5 pm, Saturday, September 29 from 9 am to 5 pm and on Sunday, September 30 from 2 pm until 4:30 pm.
The bi-annual sale raises funds to help support special projects for the New Bern Public Library.  It is also a great place for the public to purchase books and mixed media for their own pleasure and as gifts — Christmas is right around the corner! The sale usually has an assortment of titles including Children's, Current Fiction, Cook Books, Christmas, Music & Movies, Sheet Music, Religion, Hobbies, Home Décor, Paperback, Crafts, Self-Help, Antique Guides, Record Albums, Do-it-Yourself Manuals, Politics, History and Gorgeous Coffee Table Books.
Information can be found on the library website or by calling the library at 252-638-7800.
Submitted by: Audrey Williams, Friends of the New Bern Library