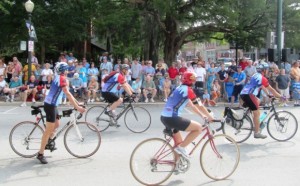 From fashion week, concerts, golfing, fundraisers, to the Annual Bike MS: Historic New Bern Ride, there's plenty of choices!
6th – 13th: Fashion Week, North Carolina History Center at Tryon Palace. For details call 252-639-3500.
7th: Colonial Capital Humane Society Fundraiser at Beer Army Outpost, 6pm, 1244 Hwy 70 E. For details, call 252-633-5060.
7th: Crowfield in Concert at the Broad Street Social Club. For details call 252-288-6820.
7th: Voci Allegre Vocal Ensemble, hosted by Craven Arts Council and Gallery. For details call 252-638-2577.
8th: Fifth Annual Golf Tournament at the River Bend Golf & Country Club, 9:00am. For details call 252-638-2819 x 23.
8th: Bear City Opry, doors open at 6:00pm, starts at 7:00pm, 516 Hancock St. For details call 252-670-7082.
8th – 9th: Bike MS: Historic New Bern Ride at the New Bern Riverfront Convention Center. For details call 919-834-9822.
There are plenty of things to do for all ages! Here's a list to give you some more options:
Visit the local Art galleries and shops to admire the vast array of art on display by local Artists.
Check out Amusements to learn about fun and games. Some examples are miniature golf, rollerskating, playing bingo, bowling, and much more!
Relieve some stress by working out at the local Fitness Centers.
Learn about New Bern's 300 years of History by taking a professionally guided or self-tours and visit the many historical landmarks.
Spend some time at the New Bern – Craven County Library, read a book, use the computer, and better yet, take some FREE computer classes!
Get some fresh air by taking a walk in the park. Your kids will have a blast at the local playgrounds. Your dog can play with others in the "dog park". Thanks to the City of New Bern's Parks and Recreation and Craven County Recreation and Parks there are over 20 parks, a community resource center, and two recreation centers in our community. They also organize numerous events and classes throughout the year.
Enjoy a Night on the Town by attending a live performance, singing Karaoke or dancing, or watching a movie at the box office.
Get back to nature by visiting Outdoor Recreation and see the hotspots for biking, boating, camping, fishing, golfing, hiking, hunting, tennis, scuba diving, etc.
Enjoy a stroll through the New Bern Farmer's Market. The locals gather here on the weekends to shop for arts and crafts, food, and many other unique gifts. They even have live bands throughout the year.
If you know of any events or things to do that aren't listed, please comment below or send us an email. You can also follow us on New Bern Now's Facebook page!
Have a great weekend!
Wendy Card