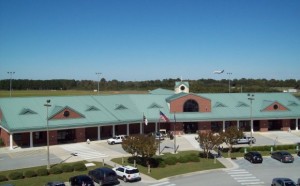 As the Coastal Carolina Regional Airport pauses on the 21st of November to celebrate its 81st Birthday, our mission won't pause. Flights will continue, TSA will perform their service with a smile, rental cars and taxi service will be available, and the Airport will again be under construction. Your Airport continues to grow with the surrounding communities. Since 1931 the runway has been extended several times to accommodate larger and more modern aircraft, hangars have been built, a passenger terminal was built then expanded a few times before being replaced with the current one in 1999, a new General Aviation Terminal was built in 2008, navigation systems have been installed, and many more obvious and not-so-obvious changes have been made. Some of the changes were made for the convenience of our passengers (159,569 flew in and out of your Airport in 1999, and 264,949 did so in 2011) and visitors, but the majority were made with safety in mind. Although our current project will not be completed by our 81st Birthday in November, we should finish it by the end of the year or early 2013 if the weather is reasonable. We are extending the runway safety area through the use of an Engineered Material Arresting System (EMAS). EMAS is a special form of crushable concrete material designed as an additional safety factor to stop an aircraft should one overrun the runway. More information on the EMAS will be posted on our facebook page later in the fall.
More exciting news from our Airport:
The Flyin'Bears, Chapter 1171 of the Experimental Aircraft Association (EAA), is a group of aviation enthusiasts who support General Aviation. They meet on the fourth Monday of each month. One of the highlights of their activities is the Young Eagles Program which introduces youngsters to flight including actual time in the air in a small aircraft. The EAA is expanding that program to include adults interested in aviation. Part of this program is a flight of approximately 20 minutes, and it's free. If you are interested, visit the Flyin' Bears' website: www.1171.eaachapter.org. They are targeting October 20th (if the weather cooperates) as the date, so don't delay in expressing your interest.
Christmas Carolers from area schools will be performing during the month of December. It is such a joy to see the children sing and perform for our passengers and visitors, and all of us wear huge smiles for days! Dates and times will be posted on the Airport's Facebook page as we draw nearer to Christmas.
Happy 81st Birthday (Simmons Knott Airport/Craven Regional Airport) Coastal Carolina Regional Airport!
For more information call, 252-638-8591 or visit our website.
Submitted by: Kathleen Sunshine, Terminal Manager, Coastal Carolina Regional Airport