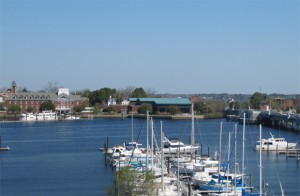 The Heritage Chorale of Eastern North Carolina will reconvene August 20 to prepare for Craven County's 300th celebration at the New Bern Riverfront Convention Center on September 22. If you can sing, and you love singing, we'd love to have you join us!
The Chorale first sang on June 2 for the Family History Society's 300th celebration with 45 singers presenting a program of music representing the settlers of eastern North Carolina.  It was fun and musical! for the singers and – I think – educational and entertaining for those attending.
There will be four rehearsals, and new singers are requested to attend all four (in Centenary Church chapel):
Please join us on:
Monday, August 20, 7pm
Monday, August 27, 7pm
Sunday, September 9, 2:30pm
Sunday, September 16, 2:30pm
The rehearsals are scheduled to allow singers to begin rehearsals with their other choirs in September.
Each rehearsal is two packed-full hours, starting promptly on time, and requiring a little German, French and Iroquois, which we teach phonetically in the rehearsals.
Attached is the program from the June 2 performance, which we will repeat. Two songs will be added that will be learned by rote: "Carolina in the Morning", "The Marine's Hymn".
Come join us, but please respond by Monday, August 6 if you plan to sing to ensure enough music for everyone.  There is a music fee of $8.50 for each singer.  Music, except for one piece borrowed from Centenary Church, can be kept or returned for a tax-deductible receipt.
This Heritage Chorale roster represents the charter members of the Chorale, organized to sing for this event. The existence of the Chorale will continue for future events. If you are interested in singing, please contact Cheryl Kite via email or call 252-717-5667.
Submitted by: Sharon Bryant