"Coastal Women's Forum provides an opportunity for business and professional women to meet periodically to enjoy, learn and support one another.
The group promotes self-development through networking and enhancement of business and professional acumen through programs and presentations.  The collective expertise of our members represents a valuable resource for each member.
Come join us for dinner at the Chelsea Restaurant in downtown New Bern at 5:30 p.m. every first Tuesday of the month or for lunch at the Emerald Country Club of Greenbrier at 12:00 noon on the third Wednesday of each month.
For more information about us and the programs offered for our lunch and dinners, visit our website at www.coastalwomensforum.com." – Information provided by Dona Baker, Publicity Chairperson, Coastal Women's Forum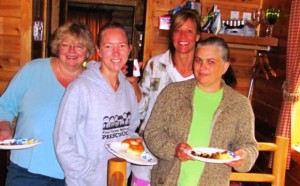 On a side note, I'm proud to be a member of this unique women's group! I've learned so much about our community by listening to the guest speakers and have met some wonderful women! It's not all about luncheons and dinners, we had a great time at the first ever "Spring Fling Retreat in luxury cabins at the New Bern KOA"!
I look forward to meeting you at future events!
Tell us what you think by commenting below or send us an email. You can also follow us on New Bern Now's Facebook page!
Wendy Card