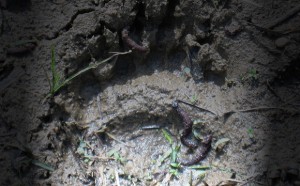 Listen to Laura Johnson's audio for WNOS 105.9FM and 1450AM:
The BEAR WORKSHOP is on Thursday September 6th from 9am – 1pm.
In this workshop, Mike Campbell will deliver a presentation on the life history of Bears, hunting and feeding regulations, and will also throw in some fascinating facts and local lore on these amazing creatures!
Afterwards, we will hike out to our corn field where there has been a lot of recent bear activity! We will have trail cameras set up before and at the workshop to view bears on candid camera.
There is only a $5.00 charge for this workshop which can be paid upon arrival in cash or check. You don't want to miss this, because it is one that is only offered once a year.
If you would like to sign up, you may register with Mike Campbell by calling him at 252-670-0090 or sending an email.  Please feel free to share with friends you think may be interested!
In addition, I am excited to be hosting our first ever Beginners Pan Fly Fishing course on October 20th from 9:30 – dark.
If you have ever wondered about what it would be like to try this, or have a son, daughter or grandchild age 12 and up, this would be a great opportunity to learn a new outdoor skill with them!  Stay tuned for more information with links where you can purchase a basic kit. There will also be a $40 fee for the workshop. Again, please share with anyone you think would be interested!
Submitted by: Melissa Patrick, Weyerhaeuser's Cool Springs, Environmental Education Coordinator