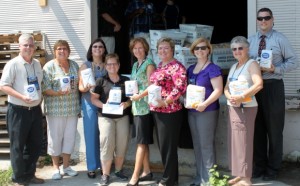 Pat Drake was excited to announce that the Tryon Civitan Club beat their goal to collect a "Ton of 'tweetness" during their 5th Annual Sugar Drive last month!
The Tryon Civitan Club in conjunction with the UPS Store and Kincaid Family Dentistry held the sugar drive to benefit the Religious Community Services (RCS) last month. Pat Drake was excited to announce that they beat their goal of a "Ton of 'tweetness"! The grand total was 2,285 pounds.
RCS uses 2,500 pounds of sugar a month. In May, RCS's Executive Director, Michael McMillan told Pat Drake that they were out of sugar in their pantry.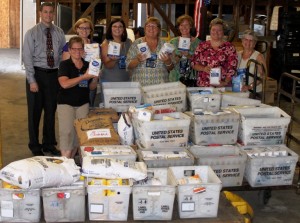 The Tryon Civitans give special thanks to the "great community that we live in and also give thanks to several of our local restaurants that donated 375 pounds". – Pat Drake
They've come a long way since their first year when the club collected 500 pounds of sugar.
Special thanks to Pat Drake and the Tryon Civitan Club for all you do for our community.
Tell us what you think by commenting below or sending us an email. Visit New Bern Now's Facebook Page.
Wendy Card