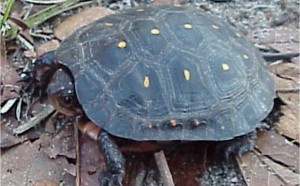 We are offering a talk on turtles that will focus on the Eastern Spotted Turtle on Wednesday June 27th from 4pm-5pm at the Cool Springs "Red House".
Chris O'Bryan is a Masters candidate at Clemson University and currently engaged in a study on Spotted Turtles with Weyerhaeuser. He will be discussing basic turtle biology, species common to our area, habitat requirements, conservation issues, and his research on the Eastern Spotted Turtle.
The cost to attend is $5.00.  Please call 252-514-3533 or send me an e-mail to sign up!
Hope to see you there!
Submitted by: Melissa Patrick, Weyerhaeuser's Cool Springs, Environmental Education Coordinator