Enjoy a special summertime treat to cool you off at FROYO 101!
If you've never been to FROYO 101, the layout is similar to a salad bar. Swap the salad for a large variety of frozen yogurt flavors.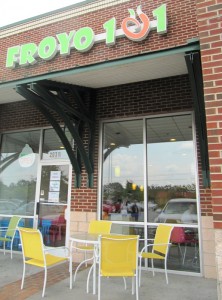 Enjoy all kinds of flavors from Dark Chocolate, White Chocolate Mousse, Strawberry, Oreo Cake, Snicker Doodle Cookie Dough, NY Cheesecake, Orange Sorbet, White Vanilla, Espresso, Blueberry Tart, Chocolate Mint, Green Apple Tart, Pink Lemonade Sorbet, Italian Cream Cake, Peanut Butter, and many more!
Fill your cup with your favorite flavors and choose from a large array of fresh fruits and special toppings!
Top your dessert off with a delicious sauce!
FROYO 101 opened in April and has been a local favorite for many, especially since the heat of summer has arrived.
Visit them in the Harris Teeter Shopping Center at 2031 S. Glenburnie Rd., call them at 252-638-8881, or visit their Facebook page!
Special thanks to Jason Chen, Manager of FROYO 101 for telling us about your unique shop!
Tell us what you think by commenting below or sending an email. Don't forget to visit New Bern Now's Facebook Page!
Wendy Card