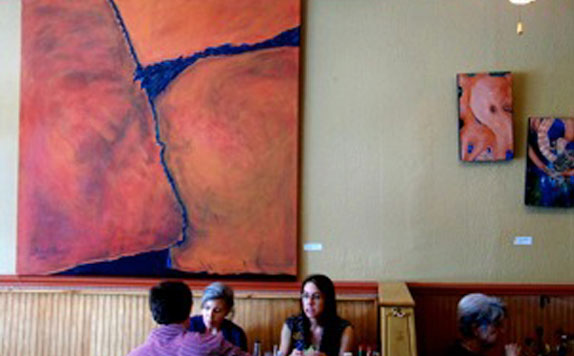 Michaelé Rose Watson exhibits conceptual artwork at MJ's Raw Bar
As a scrumptious visual treat, visit downtown 216 Middle Street at MJ's Raw Bar & Grill to view amazing conceptual paintings by Michaelé Rose Watson. 
The walls are adorned with rich colors and textures representing sea creature and environments, shells, octopus, jellyfish on thick-depthed box structures. An oversized canvas hovers near the entrance with deep reds and burnt oranges showing space as shadowed layers and folded illusion.
Watson says about her artwork, "I continue to work in mixed media but now from a conceptual point of view.  My ideas and forms are influenced by how we as humans interact with Nature.  All the choices we make affect everything and everyone around us.  My work helps to remind us of the choices and responsibilities we must consider."
Michaelé Rose Watson is currently working on a few upcoming projects for New Bern's Art & Cultural Scene. For more information on future Bohemian Night on July 13 at her studio 413B behind the Bank of the Arts, or the One-Thousand Egg Exhibit in September 2012, or to signup to paint a public mural in New Bern in autumn, please email.