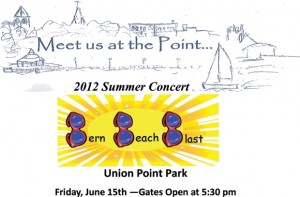 Listen to "Radio Laura" Johnson's NBN community segment aired on WNOS 105.9FM and 1450AM:
Presenting Sponsors: Weyerhaeuser Company & The New Bern Area Chamber of Commerce would like to invite you to Meet Us at the Point for the first annual summer concert Bern Beach Blast!  The concert will be on Friday, June 15th at Union Point Park in Downtown New Bern.  The gates will open at 5:30pm and tickets are $10.00.
Join us as Honey and The EMBERS bring the beach to the river with their rockin' beach music.  Honey from Raleigh, NC plays beach and funky music.  They will start off the concert at 6:30pm followed by our Headliner band and the most popular beach music band in Eastern North Carolina, The EMBERS!  Bring your lawn chairs and beach blankets and help us welcome The EMBERS to the point!  Sorry No Coolers or Backpacks allowed.  Special thanks to our Entertainment Sponsors CenturyLink and E&J Automotive and additional sponsors Beasley Broadcast Group, Inc, Sun Journal, Minges Bottling Group, R.A. Jeffreys Distributing Company, and the Carolina Diabetic Supply Group.
The second oldest town in North Carolina, located at the confluence of the Trent and Neuse Rivers, New Bern has become a popular destination for many visitors who enjoy its natural beauty, historic charm, and convenient location.  The town was settled in 1710 and its picturesque downtown waterfront district is still home to many of the attractive historic buildings, shops, and homes of that era.  Within walking distance of the waterfront are more than 150 homes and buildings listed on the National Register of Historic Places.  Downtown is home to many specialty shops, restaurants and cafes, art galleries, antique stores, theaters, churches, hotels, and bed and breakfasts, as well as banks and other professional offices.
One of the highlights of a visit to New Bern is the restored home of the Royal Governor, Tryon Palace Historic Sites and Gardens, returned to its splendor in the 1950s and now open to the public year-round.  New Bern also showcases its history in the Fireman's Museum and the Birthplace of Pepsi-Cola Museum.
The city boasts many firsts, including the first Capitol of North Carolina, under Royal Governor William Tryon; first printing press; first book and newspaper published in North Carolina; first state public school; and the home and birthplace of Pepsi-Cola.
In addition to its rich heritage, Mother Nature has been good to New Bern, providing the town with a mild four-season climate and offering boundless opportunities to enjoy the recreation and beauty found in the forests and on the waterways of Eastern North Carolina.  Area golfers find many challenging courses, hikers enjoy the trails and facilities of a national forest, and boaters of all types are treated to year-round sailing, power boating, paddling, fishing, and waterskiing.
New Bern, NC is a true "Southern Surprise" that offers both visitors and residents the charm and warm hospitality of small town life at its best combined with easily available modern conveniences and amenities.  Located 30 miles inland from the Atlantic Ocean at the confluence of two majestic rivers, New Bern has it all!
Submitted by: Teresa Suhrie, Director of Membership Development and Special Events, New Bern Area Chamber of Commerce, 252-637-3111