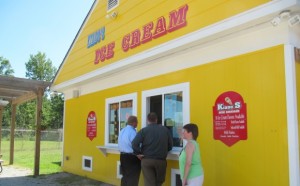 On the way from picking up "Crazy Boo" from doggie day play at Jill's Pet Gallery, we stopped by Kiddo's Ice Cream that opened in March in James City at 817 Airport Rd today.
They have 18 ice cream flavors with sundaes, banana splits, floats, milk shakes and more!
Kiddo's is an addition to Rainbow of New Bern Children's Playsets and Construction Company. It makes a lot of sense to add an ice cream shop to a place that sells playgrounds.
The Ice Cream Shop is in a perfect location for people driving on their way to and/or from Creekside Park!
They are open Monday – Friday: 12 – 9pm; Saturday: 12 – 10pm and Sunday: 12 – 8:30pm.
Nathan Mora told us about a special summertime promotion for local sports teams. Teams are encouraged to sign up by the 30th of each month. The team that buys the most ice cream gets a free ice cream or milkshake!
Visit Kiddo's Ice Cream at 817 Airport Rd. (on the corner of Old Airport Rd.), New Bern or call them at 252-364-0416.
Share your thoughts by commenting below or sending us an email. Don't forget to visit New Bern Now's Facebook page.
Wendy Card