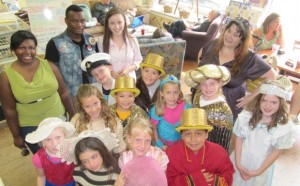 While meeting New Bern Now's "Map Man" Richard Sheridan (owner of the interactive Crystal Coast Discovery Map), we enjoyed a nice surprise!
Children from Aaron Williams' Camp Broadway came into Port City Java in costume and practiced their British accents with customers. They are very excited for their upcoming performance of The Little Mermaid".
Assistant Director, Beth Gosnell accompanied the children along with Interns Cressha Jones, Lamair Bryan, and Georgie Blackerby.
Don't miss "The Little Mermaid" directed by Aaron Williams showing on June 29th at 7pm and 30th at 2pm at the Masonic Theatre, 516 Hancock St., Downtown New Bern.
Camp Broadway is a Youth Program sponsored by RiverTowne Players Rising Stars.
Visit RiverTowne Players website or call 252-634-7877 for tickets and more information.
Tell us what you think by commenting below or sending us an email. Don't forget to visit New Bern Now's Facebook Page!
Wendy Card