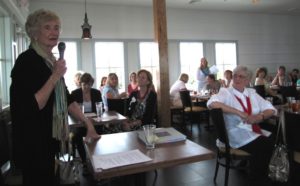 I've been negligent attending the Coastal Women's Forum (CWF) events. I finally committed to make the time to attend today's luncheon at Persimmons Waterfront Restaurant.
I'm happy I did because they had a remarkable guest speaker, Dr. Myrle Swicegood of Swicegood Associates. Dr. Swicegood wears many hats. She is a motivational speaker, consultant and trainer, and is actively involved in our community.
The luncheon began with introductions by CWF's new President, Gayle Albertini, owner of Gayleforce Design. She introduced this year's theme as "Partnerships That Work" – Lessons from Geese written by the late Darrell Sifford in March 1992.
Guests were identified and Thea Kincaid, of Thea's Ideas, took the stage as the outgoing CWF President. She presented the "President's Award" to Beth Atkins and Janet Lamb for all of their hard work and commitment to New Bern's 300th Anniversary 1st Night Celebration. 2009's CWF Theme was "Making a difference and leaving a legacy" and these two ladies were prime candidates!
Gayle welcomed members to join in the Jubilee Weekend's Parade and then introduced our guest speaker, Dr. Swicegood.
Dr. Swicegood has a true calling in capturing the audience's attention. I suppose that's why she's a motivational speaker! In a soft spoken voice, she shared important issues that have impacted our society. Key focus points were:
– From birth we become "reliant on others", as we grow, we make the choice in becoming a "taker" or "giver". Of course we can do both, but it's a lot easier to receive than give.
– In a room full of 40-50 women, she stated "we all want to be somebody". How you get there makes the difference of what kind of person you'll become.
– As an exercise, Dr. Swicegood asked us to place our hands behind our back and reflect on who has helped us become the person we are today. Many people flashed through my thoughts. Then she presented us with the question as to will we pass on the lessons we've learned to others to make a difference in their lives?
– She encouraged that we pass on to others: "Gentle your voice, your face, and your heart".
– Another important point mentioned was "appreciation and encouragement are two short commodities in the world today". She challenged the audience to encourage somebody and show appreciation for what they do. Basically, say thank you for services rendered. This doesn't necessarily mean you as a customer, but from a business owner to your customer – thank them for their patronage.
– Dr. Swicegood concluded by asking the audience to, "think about who has made a difference in your life"? "What did they do"? What can you do to pay it forward?
Thank you, Dr. Swicegood for motivating me and hopefully the CWF members in thinking about how we can make a difference in our Community and far beyond!
Gayle welcomed the following announcements from individuals, non-profit organizations, and businesses:
– Celiacs Group has a new blog and is also collecting silent auction items for the Brides Ball.
– The Willow House Consultant – Juliette Meyer annouced her new business.
– Montine Mayo, photographer and actress reminded everyone about Southern Hospitality presented by the Rivertowne Repertory Players! Performances begin this weekend!
– Carol Stewart, co-owner of Dinner Time Magic reminded everyone of their new Fondue Menu!
– Mariner Canvas Company provides a new seashell retractable awning.
– Ila Grey White announced the Family History Event this weekend at the Convention Center.
– Thea Kincaid and Kincaid Dentistry are collecting scarves, ties, and bowties for the American Cancer Society.
– Susan Humes of Slender Temptations announced a new weight loss challenge next Tuesday, August 26th.
– Amanda Norwood presents How Going "Green" makes good business sense saves money at Craven Community College. The goal is to help small businesses become more energy efficient on September 11th. Please call Amanda at 252-349-9411.
– Judy Bryan presents "Discovering your Passion", 252-637-3517.
– Don't miss out on New Bern Wine and Art Festival!
– Jonathan Simms of Persimmons Waterfront Restaurant is the Assistant manager and announced that Persimmons is utilizing a geo-thermal cooling system that's currently running off the Neuse and Trent Rivers, but will be running off the Earth's Core Temperature soon. He also announced Persimmons' parking lot will be paved in 8 days and thanked customers for their patience.
Special thanks to Dr. Swicegood for encouraging me to reflect on my goals. I'd also like to thank Gayle Albertini, Susan Humes, Laura Brothers, Thea Kincaid, and the Coastal Women's Forum Volunteers and Board Members, and the friendly staff at Persimmons Waterfront Restaurant for making this fun luncheon happen!
Wendy Card